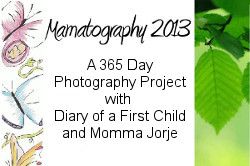 This post is part of the Mamatography 2013 Project with Diary of a First Child and Momma Jorje.
Week 45:
Day 304:  (10/31/13)
Happy Halloween!  We took the kids for a sweet treat, free donuts for kids in costume…..
Day 305:  (11/1/13)
We had to pull over and check out this super cool car…..
Day 306:  (11/2/13)
The air show was at our beach this year, we were very happy to be able to walk across and watch!
Day 307:  (11/3/13)
Day 308:  (11/4/13)
Have I mentioned they love to dig??
Day 309:  (11/5/13)
The girls first day at gymnastics.  This pic isn't so great because it was taken through the plastic wall.
Day 310:  (11/6/13)
The park and a lollipop!
Week 46
Day 311:  (11/7/13)
Alex is really enjoying fencing, he is the only left handed kid in the class.
Day 312:  (11/8/13)
Field trip to a train ride!
Day 313:  (11/9/13)
This was the highlight of Ava's year.  She got to see Winter the dolphin (from the movie Dolphin Tale) in real life!
Day 314:  (11/10/13)
Coloring at lunch….
Day 315:  (11/11/13)
The fair came to town!
Day 316:  (11/12/13)
He really loved this small zipline and is ready to tackle the one at the zoo…
Day 317:  (11/13/13)
Oh, the joy of having coconut trees in your yard….
*