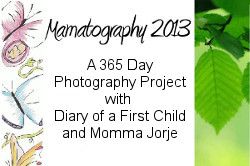 This post is part of the Mamatography 2013 Project with Diary of a First Child and Momma Jorje.
Now that we are home from our road trip it is time to settle back into our groove and enjoy fall in Florida!
Week 43
Day 290:  (10/17/13)
Painting pumpkins…..
Day 291:  (10/18/13)
Ahhhh, back at the beach…..
Day 292:  (10/19/13)
This is the waiting room at the dentist.  He is so awesome that they don't mind leaving the arcade to have their teeth checked!
Day 293:  (10/20/13)
Homeschool music/science…..
Day 294:  (10/21/13)
Boo at the zoo!  They all have new costumes but opted to wear last years clothes….
Day 295:  (10/22/13)
Busted jumping on the bed!
Day 296:  (10/23/13)
Chalk art….
Week 44
Day 297:  (10/24/13)
Hello Mr. Crabs!
Day 298:  (10/25/13)
Hunting for beach treasures….
Day 299:  (10/26/13)
Happy hayride with friends….
Day 300:  (10/27/13)
Tiger Audrey!
Day 301:  (10/28/13)
Holiday horse rides at the pumpkin patch…
Day 302:  (10/29/13)
They love tire swings, we really need to put one in our yard….
Day 303:  (10/30/13)
I love these blooms in our yard!
We have settled in and are enjoying being home.  The leaves and weather don't change much in Florida but fall is still a wonderful time of year!