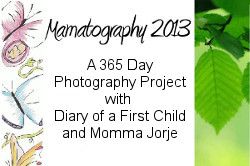 This post is part of the Mamatography 2013 Project with Diary of a First Child and Momma Jorje.
Week 41
Day 276:  (10/3/13)
We were still exploring in Ohio.  We hiked around a favorite childhood place of mine, Old Man's Cave, with my dad.  It was beautiful and one of the favorite parts of Alex's trip.
Day 277:  (10/4/13)
We spent this day with my Nanny, she is my mammas mama, and Ron.  I spent every summer growing up in Ohio spending time with my grandparents, they are very special to me and I love that my children get the chance to know them.
Day 278:  (10/5/13)
Alex was so excited to visit the original Bob Evan's farm, he is so proud to know that he is related to him.  Then we headed to the farm that I spent many childhood summers to visit my Grandma, my dad's mom.  I absolutely love the pic in the middle, my grandma looks so happy and so does Alex!  Audrey fell in love with a farm cat and if we had been closer to home that cat would be laying next to me right now.
Day 279:  (10/6/13)
We stayed put at my dad's on this day, we needed this after all of our running around!  Ava enjoyed playing dress-up and Audrey enjoyed exploring the creek at the bottom of the hill.
Day 280:  (10/7/13)
After a day of hanging out it was time to hit the road.  Again, we found ourselves driving through the clouds.  I knew that we just couldn't take a full day in the car so we made a pit stop in Gatlinburg.  I am not sure if the kids enjoyed the lazy river in the hotel or the tram to the top of the mountain more.  I am not a fan of heights and Alex enjoyed teasing me a bit in the tram!
Day 281:  (10/8/13)
It was time to travel some more but Alex insisted that we take the tram to the top of the mountain one more time.  I am so glad we did, the sun over the mountains was beautiful!  We drove up up up the Smokey Mountains, took a break at the top, then drove down down down.  We stopped at the bottom in Cherokee and explored for a few hours.
Day 282:  (10/9/13)
And this day we wound up back at my mammas house!  We were all happy to unwind after several fun-filled days of travel!
Stay tuned for the conclusion of our road trip!
To see more of my Mamatography posts please click here.