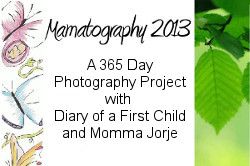 This post is part of the Mamatography 2013 Project with Diary of a First Child and Momma Jorje.
We are taking (at least) a photo a day to keep a record of our year. Join us at any point during the year and start sharing your own daily photos!

Week 35
Day 234:  (8/22/13)
I'm not sure if I am happy I discovered these chips or not, I am hooked!
Day 235:  (8/23/13)
We spent all day down south on a field trip.  We visited a loggerhead turtle rescue center (see all of the baby turtles!), a wildlife center (the opossum was yawning not hissing!), and blowing rocks beach.  It was an awesome day!
Day 236:  (8/24/13)
I organized our books so that the kids could find a topic that they want to read about more easily….
Day 237:  (8/25/13)
This boy loves Lego's…..
Day 238:  (8/26/13)
Field trip to the science center….
Day 239:  (8/27/13)
This girl loves her cat….
Day 240:  (8/28/13)
I don't love that our fridge broke and we had to get a new one….
Week 36
Day 241:  (8/29/13)
Our new pet, Spot.
Day 242:  (8/30/13)
Field trip to the grocery store…
Day 243:  (8/31/13)
Big sis teaching little sis to make a duck face….
Day 244:  (9/1/13)
Alex turns 8!
Day 245:  (9/2/13)
We spent the day at Downtown Disney.  Alex spent his birthday money at the Lego store of course….
Day 246:  (9/3/13)
Audrey's first official haircut.  Her brother cut some off with his Lego fan and she cut a chunk off herself.
Day 247:  (9/4/13)
Still building all of his new Lego's….