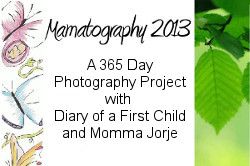 This post is part of the Mamatography 2013 Project with Diary of a First Child and Momma Jorje.
We are taking (at least) a photo a day to keep a record of our year. Join us at any point during the year and start sharing your own daily photos!

When I sit down to look at my calender and photos to find a pic to post for my Mamatography post helps me to appreciate my amazing life.  I often feel hectic, busy, and sometimes crazy.  These posts have helped me to realize all of the amazing moments that we have every single day. No matter what we may be doing our days, even the ones that seem hectic, busy, and crazy I am loving life every single day.
Week 33
Day 220:  (8/8/13)
We were exploring at the river, Audrey was fascinated with the snails….
Day 221:  (8/9/13)
The hair from Audrey's first haircut courtesy of her brother's newest Lego creation, a motorized Lego fan…..
Day 222:  (8/10/13)
Time to play dress up!
Day 223:  (8/11/13)
Cuddle time…..
Day 224:  (8/12/13)
Another day at the beach 🙂
Day 225:  (8/13/13)
Another beautiful moment at the beach….
Day 226:  (8/14/13)
I wonder if they will ever develop gills?.
Week 34
Day 227:  (8/15/13)
Diving board fun while at the pool with some of our awesome homeschooling  friends…

Day 228:  (8/16/13)
Field trip Friday!  We really enjoyed learning all about chocolate at the chocolate factory (YUMMMM).
and this was in the parking lot so we had to play…..
Day 229:  (8/17/13)
After a morning at the beach they wanted to explore the seagrapes before we headed home….
Day 230:  (8/18/13)
A bit of Math….
Day 231:  (8/19/13)
Amazing.  Just amazing.
Day 232:  (8/20/13)
The largest Buddha statue in Florida.  This was one of my favorite field trips yet….
Day 233:  (8/21/13)
I will end this post with a pic of a very happy me at the beach taken by the one and only Ava Rose…..