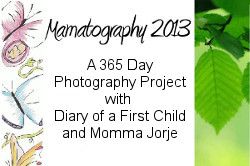 This post is part of the Mamatography 2013 Project with Diary of a First Child and Momma Jorje.
We are taking (at least) a photo a day to keep a record of our year. Join us at any point during the year and start sharing your own daily photos!

I am slowly catching up on my Mamatography posts!  Here are two wonderful weeks of our lives, we are loving every minute of summertime.
Week 29
Day 192:  (7/11/13)
On this day and this day only my kids get to enjoy a slurpee treat.  It is 7/11 and they get free slurpees!  The pic is super blurry, Ava took it and we were moving…..
Day 193:  (7/12/13)
Slurpee hangover….
Day 194:  (7/13/13)
Despicable Me 2!  Movies are cheaper before noon, check out the PJ's and unmatched socks.
Day 195:  (7/14/13)
Mid-day ice cream treat!
Day 196:  (7/15/13)
Awesome sunset from our backyard (minus the utility line!)….
Day 197:  (7/16/13)
Little dude trying to catch fish….
Day 198:  (7/17/13)
She is being pulled by her big brother, he ROCKS!
Week 30
Day 199:  (7/18/13)
I love the beach in the summer, the waves are mellow and you can often find small tide pools to play in!
Day 200:  (7/19/13)
It was awfully quiet in the back of the house, I went to check on the girls and found this…….
Day 201:  (7/20/13)
We found a bunch of these little jellyfish.  We went home and learned that they are called blue button jellyfish, it was the first time we had ever seen them at the beach.
Day 202:  ( 7/21/13)
Ava loves art!
Day 203:  (7/22/13)
Ava Rose turned 5 on this day.  For her birthday meal she chose to go to Chuck E Cheese, she had a blast!
Day 204:  (7/23/13)
She loves animals and wants to be a veterinarian when she grows up.  She is posing with a few of her new animals so I can send a picture to daddy who has been out-of-town what seems like a very long time.
Day 205:  (7/24/13)
Surprise!  Daddy is home!!!!
We had a wonderful two weeks, it has been such an amazing summer.  I cannot wait to see what is in store for us next!