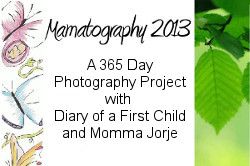 This post is part of the Mamatography 2013 Project with Diary of a First Child and Momma Jorje.
We are taking (at least) a photo a day to keep a record of our year. Join us at any point during the year and start sharing your own daily photos!
I am catching up and almost back on track with the Mamatography 2013 Project, whew!  We enjoyed the last week of family in town and then started our back to homeschool year.
Week 27
Day 178:  (6/27/13)
Ava had a trip to the dentist on this day.  You can tell her mouth is numb on one side.
Day 179:  (6/28/13)
Story time with my girls…..
Day 180:  (6/29/13)
Alex and I sold our homemade products at our first farmers market, Alex loved it!
Day 181:  (6/30/13)
Audrey loves using the Kindle with her headphones & she is pretty cute doing it!
Day 182:  (7/1/13)
We spent a relaxing day at the tide pool, this is one of my most favorite places ever.
Day 183:  (7/2/13)
Rainy day fun in the pool!
Day 184:  (7/3/13)
Alex has started to cook.  His specialty is french toast.  He hooked Audrey up with sugar on this breakfast!
Week 28
Day 185:  (7/4/13)
4th of July fun!
Day 186:  (7/5/13)
We have been selling quite a few items via our Etsy store so we spent this day making more products.
Day 187:  (7/6/13)
Crafting with Memaw!
Day 188:  (7/7/13)
This was our first day without family in town in three weeks.  It was time to clean.  I started by dumping out toy baskets so I could clean and purge!
Day 189:  (7/8/13)
'Tis the night before home learning resumes.  I am set up and ready!
Day 190:  (7/9/13)
After our build a thermometer project Ava enjoyed playing with clay.
Day 191:  (7/10/13)
Beach break!
It seems that we are getting back into yet another learning groove and we are loving every moment of it!
Without further ado, here are the Mamatography 2013 participants!
Diary of a First Child
Quacks and Waddles
Seaside Chelle
Jessica's Casserole
Mommy and Little I
The Family Patch
The Princess Poet's Life Adventures
Frugal Brit Witch
Me, Mothering, and Making it All Work