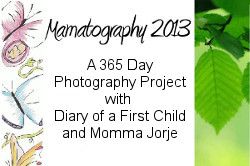 This post is part of the Mamatography 2013 Project with Diary of a First Child and Momma Jorje.
We are taking (at least) a photo a day to keep a record of our year. Join us at any point during the year and start sharing your own daily photos!
I know, I know I said that I was going to keep up but I fell further behind on my Mamatography posts.  We have enjoyed an amazing summer.  My dude was home, my dad and brothers came to town, my mama came to visit, and I opened my Etsy store.  So, as well as amazing this summer has been busy!  The dust is beginning to settle and I am ready to catch up, so here you go…weeks 23 & 24!
Week 23
Day 150:  (5/30/13)
Speaking of my dude, here he is in his full glory!  He had just gotten out of the shower when he spiked his hair and his newly grown beard.  I really need a good caption for this one, if you have one please leave it in the comments…
Day 151:  (5/31/13)
We spent a mellow day at the river with friends.  It was mellow and very very windy…..
Day 152:  (6/1/13)
We ran out of dog food so we walked to the corner store to grab a bag (sorry Laika!) and Audrey had fun pushing the bag of dog food home in her car……
Day 153:  (6/2/13)
A belated 21st Birthday celebration for our oldest, Epiphany.  Look at how happy and proud Alex is to be with his big sisters…..
Day 154:  (6/3/13)
My mama and her husband (papa) brought this desk down a few years ago.  We recently brought it out of the shed and the kids love doing their schoolwork in it…..
Day 155:  (6/4/13)
Why not use a bow and arrow indoors?!
Day 156:  (6/5/13)
Field trip to an indoor bounce house!
Week 24
Day 157:  (6/6/13)
Audrey's visit to the dermatologist.  She loved the view from three stories up….
Day 158:  (6/7/13)
Cannonball!!!!!!!!!!!!!!!!!!!!!
Day 159:  (6/8/13)
Daddy and the little girls….
Day 160:  (6/9/13)
An evening at the beach (even the dog got to go!).
Day 161:  (6/10/13)
Working on my stock for my Etsy store and the Farmer's Market…
Day 162:  (6/11/13)
Audrey discovered water wings at our friends house, she loves them!
Day 163:  (6/12/13)
Alex and his paddle boat.  I cannot throw anything away, he re-uses everything!
Without further ado, here are the Mamatography 2013 participants!
Diary of a First Child
Quacks and Waddles
Seaside Chelle
Jessica's Casserole
Dad of The Monkeys
Mommy and Little I
The Family Patch
The Princess Poet's Life Adventures
Frugal Brit Witch
Me, Mothering, and Making it All Work