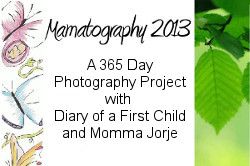 This post is part of the Mamatography 2013 Project with Diary of a First Child and Momma Jorje.
We are taking (at least) a photo a day to keep a record of our year. Join us at any point during the year and start sharing your own daily photos!
I have totally slacked off on this Mamatography challenge.  My husband was home for few weeks and I got distracted with life I guess!  I am now in a quiet house with three sleeping children and ready to get caught up.  Get ready, here are two weeks in pictures!
Week 21 
Day 136:  (5/16/13)
Ava chillin' in a tree at the park…..
Day 137:  (5/17/13)
Audrey must have found my phone, look at those cute feet!
Day 138:  (5/18/13)
I love watching them play…..
Day 139:  (5/19/13)
This girl loves to swing…..
Day 140:  (5/20/13)
Epiphany turns 21 and gets love from all of her sisters and brother!  (I get to enjoy having all 5 kid in one place!)
Day 141:  (5/21/13)
Lego robotics field trip at the Space Center.  Alex was visibly happy!!
Day 142:  (5/22/13)
Full term breastfeeding in public 🙂
Week 22
Day 143:  (5/23/13)
She is getting so big, sometimes pictures surprise me.
Day 144:  (5/24/13)
Dinner and play at the river.
then off to enjoy the full moon at the beach….
and a rocket launch!
Day 145:  (5/25/13)
The kids and I participated in the March Against Monsanto.  It was their first time involved in a march, you can read about it here.
Day 146:  (5/26/13)
My sunshine chillin' in a tree….
Day 147:  (5/27/13)
We enjoyed a lazy day at home.  The kids enjoyed some tech time!
Day 148:  (5/28/13)
This day is my anniversary.  My dude wasn't home (yet) but I got a gift from my favorite plumeria, the first bloom of the year!
Day 149:  (5/29/13)
Movie theater field trip!  Alex can't wait to see this movie!
I got somewhat caught up.  Next week will be another two-week post then hopefully I can stay on track and post weekly!
Without further ado, here are the Mamatography 2013 participants!
Diary of a First Child
Quacks and Waddles
Seaside Chelle
Jessica's Casserole
Dad of The Monkeys
Mommy and Little I
The Family Patch
The Princess Poet's Life Adventures
Frugal Brit Witch
Me, Mothering, and Making it All Work