a href="http://s70.photobucket.com/albums/i109/Luschka/?action=view&current=mtbadge2.jpg" target="_blank">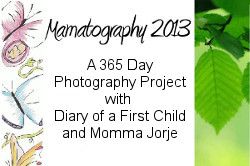 This post is part of the Mamatography 2013 Project with Diary of a First Child and Momma Jorje.
We are taking (at least) a photo a day to keep a record of our year. Join us at any point during the year and start sharing your own daily photos!
It seems that life got busy and a week went by without a Mamatography post, so here is a double week post (again).  If you look through the pictures you will see that we were very busy learning and having fun!
Day 114:
We made a spur of the moment visit to Fort Christmas to learn a bit about Florida History.
Day 115:
We relaxed at our favorite park.  Alex took a shot of me nursing Audrey.
Day 116:
Rainy day play in the backyard!
Day 117:
We enjoyed browsing through the annual art festival.  Ava turned in to a Hello Kitty masterpiece!
Day 118:
We enjoyed an all day learning adventure at St. Augustine.  The forts were amazing!
Day 119:
Audrey has discovered her love for puzzles, even online puzzles!
Day 120:
More history learning but today as we discovered and created our own mummies.
Day 121:
Collecting tadpoles at a pond.
Day 122:
We found this pet, a red bellied turtle, he joined our family for a few days.
Day 123:
Alex totally loves composting!
Day 124:
The kids were suprised today with a visit from their Memaw!
Day 125:
More Florida history learning today.  We headed to the port to check out the big ships that had sailed in for a few weeks.  First, we were happy to see this big ship while at a playground.
Then we headed to see the Spanish ship (it didn't seem so big compared to the cruise ship!).
Awwwww…..
Day 126:
We had a fun field trip to a construction site, Alex loved this!  The construction site is a future restaurant, Cheddar's, it is obviously going to be a beautiful restaurant.  Alex enjoyed looking at the blueprints.
Day 127:
We headed to a park, the kid enjoyed climbing in the sea grapes on the dune much more than the playground!
Reviewing our days and creating these posts reinforces that we are learning all of the time, thank you Mamatography!
Without further ado, here are the Mamatography 2013 participants!
Diary of a First Child
Quacks and Waddles
Seaside Chelle
Jessica's Casserole
Dad of The Monkeys
Mommy and Little I
The Family Patch
The Princess Poet's Life Adventures
Frugal Brit Witch
Me, Mothering, and Making it All Work