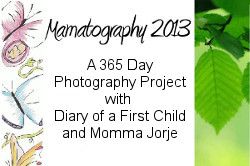 This post is part of the Mamatography 2013 Project with Diary of a First Child and Momma Jorje.
We are taking (at least) a photo a day to keep a record of our year. Join us at any point during the year and start sharing your own daily photos!
This week was filled with more Georgia adventures!
Day 52:  (2/21/13)
Alex was so excited to play and build at Lego Discovery at Phipps Plaza. 
The girls had fun too….
While we were in Atlanta we stopped by the Westin Peachtree Plaza to take the glass elevator up to enjoy a view of the city from the top.
Day 52:  (2/22/13)
Audrey learning to play horseshoes on the farm…. 
Day 52:  (2/23/13)
I have heard the thing that homeschool children miss most about not going to school is riding the school bus.  Well, our kids are in luck.  Their papa drives a school bus and they were given a ride and the chance to sit in the driver's seat! 
Day 53:  (2/24/13)
MeMaw and Papa took the kids to the circus… 
Day 54:  (2/25/13)
We traveled home this day.  It wasn't very fun for Audrey who was covered in hives.
Day 55:  (2/26/13)
This day wasn't very fun for me, time to unpack… 
Day 57:  (2/27/13)
But this day was great because Daddy came home!!
Without further ado, here are the Mamatography 2013 participants!
Diary of a First Child
Quacks and Waddles
Seaside Chelle
Jessica's Casserole
Dad of The Monkeys
Mommy and Little I
The Family Patch
The Princess Poet's Life Adventures
Frugal Brit Witch
Me, Mothering, and Making it All Work