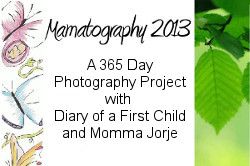 This post is part of the Mamatography 2013 Project with Diary of a First Child and Momma Jorje.
We are taking (at least) a photo a day to keep a record of our year. Join us at any point during the year and start sharing your own daily photos!
Holy smokes!  I haven't posted since Mamtography last week.  We have been crazy busy. This week started out with a day filled with love and ended with an out of town adventure!
Day 45:  (2/14/13)
This week began full of love.  We love love in our home so I try to make Valentines day extra special.  (I must say that I was seriously missing my dude on this day.)  The kids love all of the heart-shaped foods (click here to see more fun foods)….
Day 46:  (2/15/13)
Another food picture, sorry but this is the only picture I have for this day.  I often take pictures of our dinner to send to my dude when he is away from home.
Day 47:  (2/16/13)
Riding the horse while waiting for her frozen yogurt!
Day 48:  (2/17/13)
The day before our trip I decided to take a break from packing and head to the zoo.   This is Audrey on the train ride, I love her eyes!
Day 49:  (2/18/13)
Travel day!  We stopped at a restaurant for a bite and a break.  I briefly chatted with a fellow traveling mama at the table next to me.  The kids and I had to take a potty break and when we returned she was gone, I was bummed that I didn't get to say goodbye.  Our waiter informed us that she has paid for our dinner.  What a wonderful random act of kindness!  The kids and I cannot wait to pass it on.
Day 50:  (2/19/13)
First full day of our visit and we headed to lunch.  Look at these happy kids!
Audrey was way too cool to smile!
Day 51:  (2/20/13)
Ava is loving the farm life with her Memaw!
Without further ado, here are the Mamatography 2013 participants!
Diary of a First Child
Quacks and Waddles
Seaside Chelle
Jessica's Casserole
Mommy and Little I
The Family Patch
The Princess Poet's Life Adventures
Frugal Brit Witch
Me, Mothering, and Making it All Work