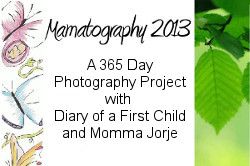 This post is part of the Mamatography 2013 Project with Diary of a First Child and Momma Jorje.
We are taking (at least) a photo a day to keep a record of our year. Join us at any point during the year and start sharing your own daily photos!
Day 38:  (2/7/13)
This week we continued learning about ancient history.   Audrey enjoyed building a ziggurat out of sugar cubes.  I was pleasantly surprised when she popped one in her mouth then promptly spit it out and said "YUCK!".
Day 39:  (2/8/13)
We were very lucky to be a part of a small class offered by a friend learning about the universe.  Alex was so fascinated while looking at a ribbon that represented the amount of time that the universe has existed.  At at the end of the ribbon was a small red area that represented how long humans have existed.  Very cool!
Day 40:   (2/9/13)
Alex and his friend worked together during a Lego learning class.  Alex LOVES Legos, he rarely participates in group activities but since this one involved Legos he was all for it!
Day 41:  (2/10/13)
Ava and one of our favorite friends in their aprons ready to bake me a birthday cake.
After an afternoon birthday celebration with friends we headed to dinner with more friends.  After dinner we enjoyed the Chinese New Year celebration.  It was the first that we have ever attended and it was awesome!
Day 42:  (2/11/13)
On my birthday we went took it easy and relaxed at our local fish camp, Honest John's.  It was a beautiful day on the river.
Audrey loves the chickens at Honest Johns!
Day 43:  (2/12/13)
Did I mention that Alex loves Legos?  This is a corner in his room….
Day 44:  (2/13/13)
Alex's ziggurat, prior to painting.
This week I am a year older and couldn't be happier or more excited to see what the upcoming days, months, and years have in store for me and our family!
Without further ado, here are the Mamatography 2013 participants!
Diary of a First Child
Quacks and Waddles
Seaside Chelle
Jessica's Casserole
Mommy and Little I
The Family Patch
The Princess Poet's Life Adventures
Frugal Brit Witch
Me, Mothering, and Making it All Work