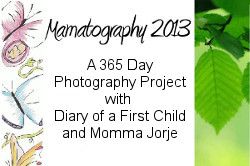 This post is part of the Mamatography 2013 Project with Diary of a First Child and Momma Jorje.
We are taking (at least) a photo a day to keep a record of our year. Join us at any point during the year and start sharing your own daily photos!
Day 24:  (1/24/13)
I wonder who got into her sisters makeup?
Day 25:  (1/25/13)
Picnic at the park….
Day 26:  (1/26/13)
Weekly trip to the library….
Day 27:  (1/27/13)
Audrey's first time sleeping in her big girl bed….attached to our bed!
Day 28:  (1/28/13)
Searching for treasure…
Day 29:  (1/29/13)
She was so excited about a field trip to the candy shop, even though she isn't showing it!
Day 30:  (1/30/13)
The BOOM from an Atlas V Rocket (viewed from our backyard) ended our week!
Without further ado, here are the Mamatography 2013 participants!
Diary of a First Child
Quacks and Waddles
Seaside Chelle
Jessica's Casserole
Dad of The Monkeys
Mommy and Little I
The Family Patch
The Princess Poet's Life Adventures
Frugal Brit Witch
Me, Mothering, and Making it All Work