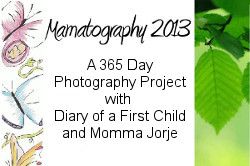 This post is part of the Mamatography 2013 Project with Diary of a First Child and Momma Jorje.
This is the third and final post on our amazing road trip…..
Week 42
Day 283:  (10/10/13)
We had a down day just the kids and I so I pulled out the Gator and drove down to a neighbor's house to enjoy their backyard.  The girls had a blast jumping…
And the see saw was just too much!
Day 284:  (10/11/13)
We visited the Atlanta zoo.  Ava rode on my favorite bird…
Day 285:  (10/12/13)
Audrey made a friend on a visit to a ranch…
And Alex sewed his sister a pillow….
Day 286:  (10/13/13)
Another fun day at Memaw & Papas.  Ava loves the horses…
Sweet sleepy sisters….
Day 287:  (10/14/13)
We visited the town that I spent my high school years living in.  They loved these spinning seats…
Day 288:  (10/15/13)
Our last day at my mamas house.  Audrey loves the chickens….
Day 289:  (10/16/13)
Our amazing road trip is coming to an end, hello Florida!
To see more of my Mamatography posts please click here.