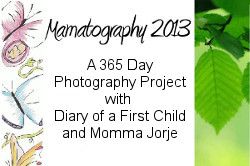 This post is part of the Mamatography 2013 Project with Diary of a First Child and Momma Jorje.
We are taking (at least) a photo a day to keep a record of our year. Join us at any point during the year and start sharing your own daily photos!

Homeschooling allows us the freedom to travel freely when we want and are able.  We enjoy taking road trips and exploring new and familiar places.   After every road trip I joke and say that I won't plan another one until the memories of the previous one fade.   I suppose the memories of kids crying in the back seat and tantrums due to my children being out of their comfort zone faded because we were about to head out on a 2 1/2 week road trip covering over 2,000 miles!
Day 269:  (9/26/13)
The day before we planned to leave I made a double batch of body butter.  I knew leaving warm humid Florida for cold dry Northern states would wreak havoc on my skin, I felt this was a necessity.
Day 270:  (9/27/13)
Day 1 of the road trip!  Four hours down 4 to go, it was time for a stop.  A friend of mine told me about this historic site that happened to be on our route, I was anxious to check it out.  W were not only road tripping but we were road schooling!
Day 271:  (9/28/13)
Our first destination:  My mamas.  This is a very happy picture and certain to find itself in a frame on a wall.
Day 272:  (9/29/13)
We took a down day, stayed out of the car and enjoyed a day on the farm.  Horse shoes, chickens & tractors!
Day 273:  (9/30/13)
After a brief stop at my mamas we woke up early, left Georgia, and headed to Ohio.  My GPS took me a different route than I had planned and we ended up right on top of the Smokey Mountains (the kids were cold in the pic!).  They started looking happier 9 hours into the trip once we were about to cross the Ohio River.  And the last pic says it all, out of the car and rolling down Grandpa's yard!
Day 274:  (10/1/13)
Another down day.  The girls enjoyed a favorite destination:  Grandpa's tub!
Day 275:  (10/2/13)
We visited the Columbus, Ohio zoo.  It was very cool zoo, my dad and I even think that we may have encountered Jack Hannah himself.  The playground was awesome!
This moment at the zoo was sad and touching.  Audrey stood in awe looking at this creature named Colo.  Colo was the first gorilla born into captivity and also the oldest gorilla (67)  in captivity.  It is as if she and Audrey shared a moment, they just gazed at one another for at least 5 minutes.  I can only image how many people Colo has encountered in her life, but this moment touched me and made me very sad.
Road trips may include a few tears and uncomfortable moments (kids screaming, tantrums, and sad moments at the zoo) they are also filled with truly amazing one of a kind memory making moments.  I wouldn't trade one of these road trip days for an easy day at home.