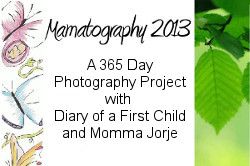 This post is part of the Mamatography 2013 Project with Diary of a First Child and Momma Jorje.
We are taking (at least) a photo a day to keep a record of our year. Join us at any point during the year and start sharing your own daily photos!

Day 262:  (9/19/13)
Audrey has a style all her own…..
Day 263:  (9/20/13)
Last day of summer.  We had to hit the beach….
Day 264:  (9/21/13)
Fun at the soccer fields….
Day 265:  (9/22/13)
She looks as if she is up to something….  An umbrella & chopsticks, that could be trouble!
Day 166:  (9/23/13)
Audrey found Grandma's hat!
Day 167:  (9/24/13)
My sunshine, Audrey Violet, turned 3 years old….
Day 168:  (9/25/13)
And she is going on 13 apparently…..