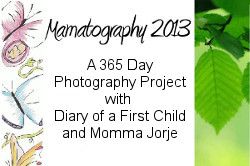 This post is part of the Mamatography 2013 Project with Diary of a First Child and Momma Jorje.
We are taking (at least) a photo a day to keep a record of our year. Join us at any point during the year and start sharing your own daily photos!

I was catching up on these posts then I went on a three-week vacation and find myself behind again, I guess you can expect double week posts soon!  This week was one of those simple mellow weeks in our lives……
Day 255:  (9/12/13)
We spent the evening at our town's boardwalk eating ice cream, playing on the playground, and taking in the beauty of the ocean.
Day 256:  (9/13/13)
Audrey loves completing puzzles on Ava's Kindle.  I think I need to get a child proof case for mine to eliminate the battles over this one!
Day 257:  (9/14/13)
Big Yummy Salad.  I make one of these every week so that it is available in the fridge for us and I don't have to make a salad every day.
Day 258:  (9/15/13)
Watch out, he is going to get you with Silly String!
Day 259:  (9/16/13)
I had a few important things that I needed to take care of.  That is the ONLY reason the bin of Play Doh came out!
Day 260:  (9/17/13)
Otter love at the zoo!
Day 261:  (9/18/13)
Fun at the soccer fields after dinner.