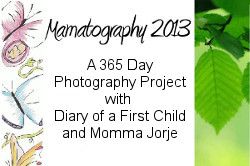 This post is part of the Mamatography 2013 Project with Diary of a First Child and Momma Jorje.
We are taking (at least) a photo a day to keep a record of our year. Join us at any point during the year and start sharing your own daily photos!

Day 248:  (9/5/13)
Alex styling his friends hair….
Day 249:  (9/6/13)
Playing dress-up…….
Day 250:  (9/7/13)
Fun at the beach…….
Day 251:  (9/8/13)
Gecko love…….
Day 252:  (9/9/13)
Lentil tacos are currently our favorite thing to eat…..
Day 253:  (9/10/13)
Pool time after dinner AKA bathtime…..
Day 254:  (9/11/13)
We found this sweet dog wandering the streets.  I thought that we had a new pet but we were able to track down his family (thanks Facebook!)….