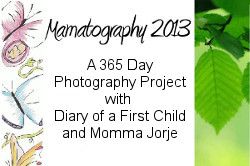 This post is part of the Mamatography 2013 Project with Diary of a First Child and Momma Jorje.
We are taking (at least) a photo a day to keep a record of our year. Join us at any point during the year and start sharing your own daily photos!
Day 129:
We were continuing on our adventures with Memaw so we headed to Jensen Beach Florida for an amazing all day adventure.  We started at bathtub reef.  I have decided that this is my favorite beach in the U.S. so far.  (You can read more about this awesome adventure here)
Day 130:
After our morning at bathtub beach yesterday we visited a children's museum.  I can remember the moment that I saw Audrey place a 'play' spoon in her mouth.  I said to my mom that if anyone gets sick that is where it came from.  Well, today Audrey got sick.  Really, really sick.  Her temp spike to almost 107 degrees F and would not come down.  It was my first trip to the emergency room with any of our kids.
Day 131:
After many tests, which all came back totally fine, we were released from the hospital under the assumption that Audrey had a virus.  She spent most of this day sleeping off her high fever.
Day 132:
The kids and I spent a quiet Mother's Day together.  My mom left yesterday and my dude is out-of-town.  Both of the girls were sick at this point so we had a 'chillax' day.  Look at these sweet freckles….
Day 133:
We were all pretty stir crazy at this point so we ventured out to a park before school got out.  Audrey had a welcome burst of energy!
Day 134:
Audrey loves her Wishbone Design bike!  She is really picking up speed….
Day 135:
Everyone was feeling a bit better so we enjoyed a peaceful walk at the river.
Without further ado, here are the Mamatography 2013 participants!
Diary of a First Child
Quacks and Waddles
Seaside Chelle
Jessica's Casserole
Dad of The Monkeys
Mommy and Little I
The Family Patch
The Princess Poet's Life Adventures
Frugal Brit Witch
Me, Mothering, and Making it All Work