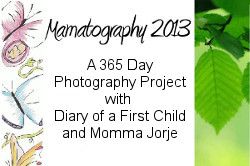 This post is part of the Mamatography 2013 Project with Diary of a First Child and Momma Jorje.
We are taking (at least) a photo a day to keep a record of our year. Join us at any point during the year and start sharing your own daily photos!
We are still recovering from the holidays in our home and since we homeschool we decided to enjoy a 'not back to school' week 🙂
Day 3:  (1/3/13)
This cardboard house has lasted longer than I expected.  Ava loves to decorate it.
Day 4 : (1/4/13)
Captain Audrey!!  It was her first time on grandpa's boat (notice her protective big brother).
Day 5:  (1/5/13)
A sushi date with my husband, yummmmmmmm.
Day 6: (1/6/13)
Audrey insists on dressing herself most days.  She really does have her own style!
Day 7: (1/7/13)
The girls love their new bikes (and outfits)!
Day 8: (1/8/13)
We squeezed in a little Science learning on this day.  The kids worked on a plot study on the side of our house, even our bunny joined in on the fun!
Day 9: (1/9/13)
Family date night.  Kids picked pizza even though I tried to sway them to choose sushi!
I have to say that we had a super fun not back to school week!
***
Without further ado, here are the Mamatography 2013 participants!
Diary of a First Child
Quacks and Waddles
Seaside Chelle
Jessica's Casserole
Dad of The Monkeys
Mommy and Little I
The Family Patch
The Princess Poet's Life Adventures
Frugal Brit Witch
Me, Mothering, and Making it All Work