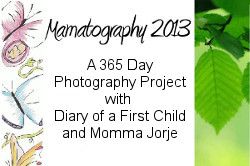 This post is part of the Mamatography 2013 Project with Diary of a First Child and Momma Jorje.
We are taking (at least) a photo a day to keep a record of our year. Join us at any point during the year and start sharing your own daily photos!
Day 84:  (3/27/13)
A few weeks ago a friend at the community garden where we volunteer gave us a very furry caterpillar.  This caterpillar, which was named Harriett, became this beautiful moth!
Day 85:  (3/28/13)
We went to see 'The Croods' with our homeschool group.  This was the first movie at a theatre that I have actually been able to sit and watch since having kids.  It is a great movie, we all really enjoyed it!
Day 86:  (3/29/13)
No fun picture today.  Laundry, laundry, and more laundry.  Notice the creepy clown lurking in the corner!
Day  87:  (3/30/13)
We enjoyed an Easter egg hunt at the beach.
Day 88:  (3/31/13)
We spent the day having a blast with our wonderful friends.  The girls were making cookies together in this photo.
Day 89:  (4/1/13)
Alex tied Audrey's car to his tractor and gave her a ride around the yard.  He is always building and creating.
Day 90:  (4/2/13)
All three kids are really enjoying their Wishbone bike.  They took turns riding it at the park.
We had another awesome week, I hope that you did too!
Without further ado, here are the Mamatography 2013 participants!
Diary of a First Child
Quacks and Waddles
Seaside Chelle
Jessica's Casserole
Dad of The Monkeys
Mommy and Little I
The Family Patch
The Princess Poet's Life Adventures
Frugal Brit Witch
Me, Mothering, and Making it All Work