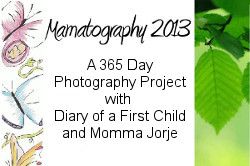 This post is part of the Mamatography 2013 Project with Diary of a First Child and Momma Jorje.
We are taking (at least) a photo a day to keep a record of our year. Join us at any point during the year and start sharing your own daily photos!
Day 78:  (3/21/13)
Our Wishbone Bike arrived today, Ava was super stoked!
Day 79:  (3/22/13)
This was a wonderful and fun day.  We met an unschool group for a field trip at Sam's House (I will have to write a field trip Friday post!).  We explored, learned, and jumped into history with a few fun activities.
On the way home we stopped at a park that we had never visited and discovered a really cool playground.
Just past the playground we also found a nature trail and nature center. This was an awesome all day adventure!
Day 80:  (3/23/13)
Another fun day of play with friends.  We made recycled Easter baskets at the Barrier Island Sanctuary (another field trip post!).
After our craft we spent some time learning about our local wildlife.  The girls were discovering turtle migrations.
Day 81:  (3/24/13)
After a few days of Audrey feeling well and 'acting' like herself, she took a step backwards today.  She was feeling so crummy that she fell asleep at dinner!
Day 82:  (3/25/13)
Yes, it is Spring.  Yes, we live in Florida.  Yes, that pool is still VERY cold!
Day 83:  (3/26/13)
Another pathetic Audrey picture.  Yes, she is sleeping on her feet.
After this picture I took her to our doctor who once again advised that I give her Gatorade because breast milk is lacking in electrolytes.  I fired another doctor.
That wraps up our week.  Audrey was sick but we were able to sneak in some learning and fun!
Without further ado, here are the Mamatography 2013 participants!
Diary of a First Child
Quacks and Waddles
Seaside Chelle
Jessica's Casserole
Dad of The Monkeys
Mommy and Little I
The Family Patch
The Princess Poet's Life Adventures
Frugal Brit Witch
Me, Mothering, and Making it All Work