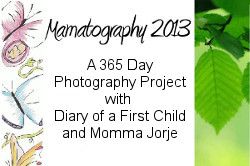 This post is part of the Mamatography 2013 Project with Diary of a First Child and Momma Jorje.
We are taking (at least) a photo a day to keep a record of our year. Join us at any point during the year and start sharing your own daily photos!
I was so happy to have my dude home and the kids happy to have their daddy back this week.  We enjoyed this week by spending time together as a family!
Day 58:  (2/28/13)
Not only did daddy come home so did our missing bunny.  I am not sure who was more happy the kids or our dog!
Day 59:  (3/1/13)
My dude is a leap year baby so we celebrated his birthday today.  He is 10 1/4.
Day 60:  (3/2/13)
Ava enjoyed harvesting cabbage at our community garden.
Day 61:  (3/3/13)
Audrey fell asleep on the couch and I think the bunny wanted to snuggle with her.
Day 61:  (3/4/13)
We enjoyed a field trip to Legoland.  It is built on the previous Cypress Gardens.  I was excited to see the huge banyan tree in the gardens.
Day 62:  (3/5/13)
On our trip to Legoland Ava lost her most favorite lovey.  She was absolutely devastated and it broke my heart (and hers).  I gave her my teddy bear that I treasured when I was young and lost my blanket.
Day 63:  (3/6/13)
Ava is loving Hariette the caterpillar that came home with us from the community garden.
We had another great week!
Without further ado, here are the Mamatography 2013 participants!
Diary of a First Child
Quacks and Waddles
Seaside Chelle
Jessica's Casserole
Mommy and Little I
The Family Patch
The Princess Poet's Life Adventures
Frugal Brit Witch
Me, Mothering, and Making it All Work