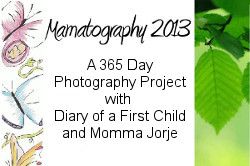 This post is part of the Mamatography 2013 Project with Diary of a First Child and Momma Jorje.
We are taking (at least) a photo a day to keep a record of our year. Join us at any point during the year and start sharing your own daily photos!
It has been a month since we entered the new year, I feel as though I am just now getting back into the swing of things.  The celebrations have come to an end, our many visiting family members have returned to their homes, and my husband left town again for work SO it was time for the kids and I to rediscover our groove.
Day 31: (1/31/13)
Audrey is two and learning new ways to express her feelings.  Here she is on the floor upset.  There could be many reasons that she is distressed.  I may have not let her climb into the dishwasher, or take a bath unattended, or swap everything from the freezer to the fridge.  She is two.
Day 32:  (2/1/13)
Alex is enjoying learning about History.  He also loves Art, so when he can do both at once he is a happy kid!
Day 33:  (2/2/13)
Time to stop, breathe, and take in this beautiful sunset.  Everything is going to be alright.
Day 34:  (2/3/13)
Ava suffers from seasonal allergies.  She decided to have a pajama day and beaded for hours on end.
Day 35:  (2/4/13)
Audrey rarely takes naps, I believe allergies got to her as well.
Day 36:  (2/5/13)
The kids made tie dyed shirts with our wonderful homeschool scouts group.
Day 37:  (2/6/13)
A happy puppet show at the zoo.  The girls allergies seem to be better!
We rediscovered our groove and are now anticipating the return of my husband so we can happily rediscover a new groove!   Finding our groove without him are always the toughest.
Without further ado, here are the Mamatography 2013 participants!
Diary of a First Child
Quacks and Waddles
Seaside Chelle
Jessica's Casserole
Dad of The Monkeys
Mommy and Little I
The Family Patch
The Princess Poet's Life Adventures
Frugal Brit Witch
Me, Mothering, and Making it All Work